Word Warp Cheat Solver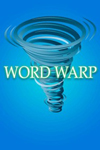 Word Warp is a fun word based game where you have to try and make as many words as you can with the letters you get. What makes this game exciting is that you have many different lengths of words you have to make so you are really going to have to use your brain on this one. Good thing we are around because we make it easy to find as many words as you can for your game. Our word warp cheat functions just like an anagram solver. All you have to do is put in your letters from your game into our cheat and we will find every possible word you can make.
We are confident you are going to find every word you need to finish each round. We tested our solver multiple times and we were able to find every word for every game we played. We also have a nice mobile version of this solver so you can get help on the go.
If you wanted to get the latest scoop of the game you can download the app at the itunes store