Word Puttz Cheat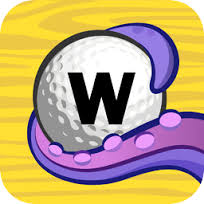 Use our Word Puttz Cheat to help you solve your puzzle board and get all the answers you need for your game. It's a really simple tool that will find every possible word you can make with your letters. All you do is enter your letters into our solver and we will do the rest. Our solver will then show you every word you can make. It's that simple!
If you have not already downloaded Word Puttz for your mobile phone you can download them here:
How To Play
If you are familiar with crossword puzzles then you are going to be familiar with this game. Its basically just a crossword puzzle with some anagram skills included. Instead of trying to find a word from a clue, you are given 7 letters to form a word that you can place on your board. Some of the added fun with this game is that you are also playing to sink a golf ball by placing words in a certain position to lead the ball to the hole. So not only are you trying to find words you can make with the letters you are given, you also have to place them in a certain position so that the golf ball makes it to the hole.
We must warn you this game is VERY addicting.
Here are some screenshots of the game for your viewing pleasure. You can see from the picture the path made from the ball to the hole