Word Run Cheat & Jumbline Cheat

Word Run Android app is a awesome word game which you have to try and make as many words as possible from the letters that are given to you at the beginning of each game. Our word run cheat is designed to help you figure out how many words you can make with the letters. Much like a regular anagram solver you can use our word run cheat to form as many words and get the answers you need. Our cheat tool also words great with Jumbline, and Jumbline 2 Cheat
How Does It Work?
It's pretty simple, all you need is to enter all the letters in your game into our word solver and we are going to find every possible word you can make with those letters. We have tested the game against our word list and we have been able to find every word we need to move onto the next level. Once you enter in the letter you will have a huge list of words to choose from.
Screen Shots
Here are some screen shots of the game and if you are interested in downloading the app for your android phone you can
find the link to Word Run here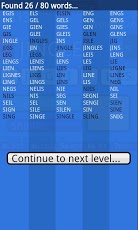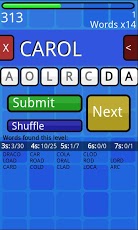 How to play Word Run
If you have every played scrabble, words with friends and you have used some kind of scrabble cheat solver then you are going to be familiar with this game. When you start the game you are going to receive up to 7 letters in which you have to make as many words as possible. You can not just create any words you want, but in fact you are going to have to create specific words that are hidden on your screen. The only clue you are given is how many letters do each word have represented as 3s 0/20. Which basically means that you have 20 3 letter words total to make. You are going to have 4, 5,6 and 7 letters as well.
One of the cool things about this game is the timer option is has. You can enable this feature to give yourself a certain amount of time to guess the words before the timer runs out.
We hope our tool and tips helps you with your game and let us know if there is anything we can do to improve on our word run cheat tool.