Whirly word is one of the new top word game apps on the market right now. It is based on trying to make as many words as you can with letters you are given in each game. Just like scrabble and words with friends, whirly words works the same way. If you want to see what words you can make with your letters then simply add your letters into our word solver and we will return as many words possible with the given letters and give you all the answers you need. It is a true solution to help you find all the words you need to finish your board.
We have tested our word lists against the game and we have been able to successfully pass each round with our word list, so we know you are going to find our tool very helpful. We also have a mobile version of our word finder for you mobile users.
If you are not sure about this new word game, you can download the app at the itunes store. Here is a screenshot of what the game looks like.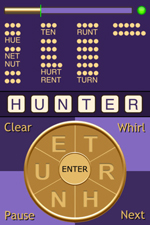 How To Play
You start off with a set of 6 letters on your whirly board. You have to try and make every letter possible which is listed at the top of your screen. Each dot represents a letter in the word so you can see how many letters each word you have to make. Until you have completed all the words you can then move on to the next work.
Pretty simple game and very addicting.
Features
You can pick some cool features with the app to change your game experience a little. Some of these are:
Your choice of a abridged or full dictionary
Change the shape from dots to squares for the words
Change the color of the game

If you are looking for a place to discuss the game with other players and maybe even get help you can discuss here at this forum about the whirly word game.